Well, I guess the answer is blog. I haven't written in a while, but Patti has done a spectacular job keeping up the posting. I've been more of a behind the scenes blog guy - but I decided to step out of the shadows for tonight.
As a lot of you know, Daddy got to stay home and work this weekend, which was good for me. I went into work on Saturday, did some lawn upkeep, tried to make our ceiling fan work while the lights are off. Pretty boring stuff, but needed to be done.
Except for Saturday afternoon, that is.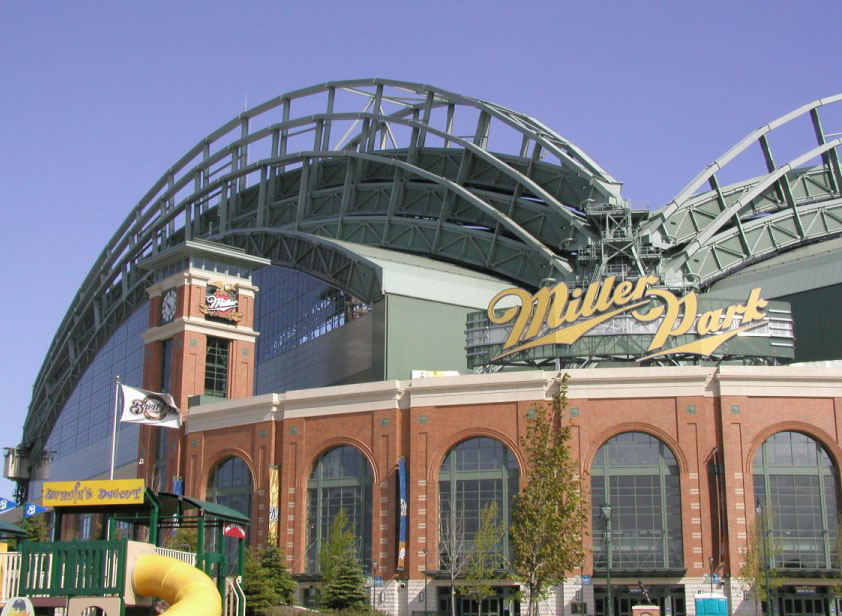 I decided to take a roadtrip with my friend Dagan up to Milwaukee - pronounced "mill-e-wah-que" which is Algonquin for "the good land." Okay - enough with the dated
Wayne's World quotes
.
Last minute, we headed up to Wisconsin. I-94 all the way. A few things about the trek:
1 - Milwaukee has the most
clock towers
per capita in the world. It's true. Look it up.
2 - Miller Park was named after the
Miller Brewing Company
. Apparently they make beer. I'm not really sure, but that's what every cornhole player in the parking lot slurred at us.
3 - Also, Milwaukee is populated by people from Chicago. It might be because
all cities lead to I-94
.
Lots and lots of people from Chicago made the trek with us. The White Sox traveled to play the Brewers in an interleague play game - and beat the snot out of them, 7-1. It was fun, it was sun, it was a good time all around.
_______________________________________________
Now, back to the topic of MLB - Major League himself.
It was Ben's 6 month birthday today! 6 months that have changed Patti and my lives forever - and we wouldn't have changed a thing about it. I do miss him today, since he and Mom are at the lakeshore until tomorrow. I know they are having a great time though, so I feel better about not seeing him. I'm sure Patti will be back and report everything that went on during the weekend.
So - Happy Birthday to my pal, to my pal, to my pal. Happy Birthday to my pal, my pal BEN! I'll see you tomorrow!
- Brian / Daddy